The Rob Armstrong Rebound Therapy Centre was opened in February 2018. The centre consists of a Dance/Music Studio, a one of a kind bespoke Rebound Therapy Centre with 5 trampolines, and an excellent new Training Suite
.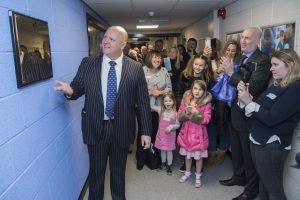 Please see the link below to access information on Rebound Therapy sessions.
http://headstraining.smartsandbox.co.uk/training/rebound-therapy-for-sen/rebound-therapy-for-sen/
Facilities to Hire in the Centre:
HEADS Training Suite (accommodating up to 40 people)
HEADS Rebound Therapy Centre
Sports Hall Music/Dance Studio
Hydrotherapy Pool
Further information on all of our training courses and facilities to hire, including prices are available on our website www.headstraining.co.uk  Any additional questions or queries please feel free to get in touch with –
Chris Rollings – Head Teacher chris.rollings@hadrian.newcastle.sch.uk
David Palmer – School Business Manager david.palmer@hadrian.newcastle.sch.uk
Party Bookings
Party Bookings for our Rebound Therapy Centre includes the use of the Rebound Therapy Centre, Sports Hall, Dance Studio and Kitchen.We can also supply trained Rebound Therapy staff at an additional cost.
Full use of the Rebound Therapy Centre – all 5 trampolines
Full use of the Sports Hall including sports/games equipment
Use of the Dance Studio/Kitchen
Staff member on call to assist with Rebound Therapy/setting up equipment
We would generally recommend at least 2 members of staff  using all 5 trampolines.  Costs of booking: £65.00 per hour for the use of all the facilities (a minimum booking of 2.5 hours) – this includes 1 staff member.
Additional members of trained Rebound Therapy Staff would cost an additional £15.00 per hour.
Most parties are typically 2.5 hours and have 2 members of staff so an example cost would be for a 2.5 hour party: £65.00 per hour = £162.50 – for 2.5 hours,  £30.00 for an additional member of staff for 2.5 hours
Total £192.50
(The additional 30 minutes on top of the 2 hour party is for opening and closing before and after the party).
All bookings are covered by our Public Liability and Hire's Liability Insurance.  Staff members are qualified in First Aid.. We  facilitate parties in holidays and on weekends. Note: Saturday  availability only after 1.30pm.